About Us
The Grand Traverse Astronomical Society is a nonprofit organization dedicated to to education and enjoyment of the night sky. Established in 1982, the GTAS has about 30 members from the Traverse City and the Grand Traverse area of northern Michigan. Meetings are held on the first Friday of every month beginning at 8 p.m. at Northwestern Michigan College's Joseph H. Rogers Observatory, though the August meeting is preempted by the annual picnic at another location.
Guests are always welcome to our meetings.
Over 750 attended the society sponsored Comet Hyakutake Watches March 23, and 24th, 1996. The farthest traveler came from Detroit to enjoy the dark skies and the spectacular comet through many telescopes. Comet Hale-Bopp attracted approximately 1,400 during the three scheduled viewing nights that were clear.
We've hit the road, so to speak, with outreach beyond the NMC Observatory since 2007. Since 2011 we've held monthly star parties at Sleeping Bear Dunes National Lakeshore from April to October with additional eclipse and meteor shower watches. We bring our telescopes and exhibits to several festivals around the area along with Friday Night Live in Traverse City. Since 2010 the society has been hosting monthly star parties at the Sleeping Bear Dunes National Lakeshore, and beginning in 2016 at the Arcadia Dunes.

The GTAS belongs to the International Dark-Sky Association and participates in Project Astro.

We also participate in the annual International Observe the Moon Night.
Upcoming Meetings and Outreach Events
Note that outdoor events are weather permitting
March 2nd, Friday
GTAS Monthly Meeting: 8 p.m. - NMC Rogers Observatory.
Program: Star Bowl (Tentative)
Star Party: 9 p.m. - NMC Rogers Observatory.
If it's clear: The Great Orion Nebula and Moon late.
April 6th, Friday
GTAS Monthly Meeting: 8 p.m. - NMC Rogers Observatory.
Program: To be announced
Star Party: 9 p.m. - NMC Rogers Observatory.
If it's clear: Venus early, Great Orion Nebula later.
---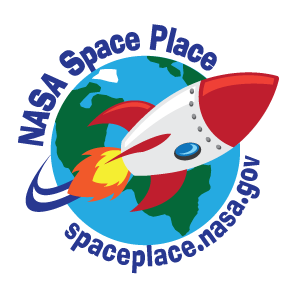 This article is provided by NASA Space Place.
With articles, activities, crafts, games, and lesson plans, NASA Space Place encourages everyone to get excited about science and technology. Visit spaceplace.nasa.gov to explore space and Earth science!
What Is the Ionosphere?
By Linda Hermans-Killiam
High above Earth is a very active part of our upper atmosphere called the ionosphere. The ionosphere gets its name from ions—tiny charged particles that blow around in this layer of the atmosphere.
How did all those ions get there? They were made by energy from the Sun!
Everything in the universe that takes up space is made up of matter, and matter is made of tiny particles called atoms. At the ionosphere, atoms from the Earth's atmosphere meet up with energy from the Sun. This energy, called radiation, strips away parts of the atom. What's left is a positively or negatively charged atom, called an ion.
The ionosphere is filled with ions. These particles move about in a giant wind. However, conditions in the ionosphere change all the time. Earth's seasons and weather can cause changes in the ionosphere, as well as radiation and particles from the Sun—called space weather.
These changes in the ionosphere can cause problems for humans. For example, they can interfere with radio signals between Earth and satellites. This could make it difficult to use many of the tools we take for granted here on Earth, such as GPS. Radio signals also allow us to communicate with astronauts on board the International Space Station, which orbits Earth within the ionosphere. Learning more about this region of our atmosphere may help us improve forecasts about when these radio signals could be distorted and help keep humans safe.
In 2018, NASA has plans to launch two missions that will work together to study the ionosphere. NASA's GOLD (Global-scale Observations of the Limb and Disk) mission launched in January 2018. GOLD will orbit 22,000 miles above Earth. From way up there, it will be able to create a map of the ionosphere over the Americas every half hour. It will measure the temperature and makeup of gases in the ionosphere. GOLD will also study bubbles of charged gas that are known to cause communication problems.
A second NASA mission, called ICON, short for Ionospheric Connection Explorer, will launch later in 2018. It will be placed in an orbit just 350 miles above Earth—through the ionosphere. This means it will have a close-up view of the upper atmosphere to pair with GOLD's wider view. ICON will study the forces that shape this part of the upper atmosphere.
Both missions will study how the ionosphere is affected by Earth and space weather. Together, they will give us better observations of this part of our atmosphere than we have ever had before.
To learn more about the ionosphere, check out NASA Space Place: https://spaceplace.nasa.gov/ionosphere
This illustration shows the layers of Earth's atmosphere. NASA's GOLD and ICON missions will work together to study the ionosphere, a region of charged particles in Earth's upper atmosphere. Changes in the ionosphere can interfere with the radio waves used to communicate with satellites and astronauts in the International Space Station (ISS). Credit: NASA's Goddard Space Flight Center/Duberstein (modified)
---
NASA Space Place poster

Download the poster by clicking the image above.
To see the video that goes along with this poster, visit: http://spaceplace.nasa.gov/sun-heat.
Links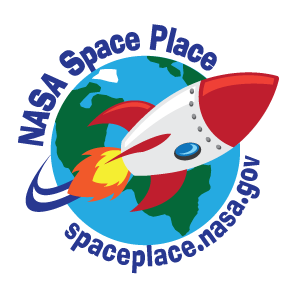 For Kids: NASA's Space Place website
The Space Place is a NASA website for elementary school-aged kids, their teachers, and their parents.
It's colorful!
It's dynamic!
It's fun!
It's rich with science, technology, engineering, and math content!
It's informal. It's meaty. It's easy to read and understand. It's also in Spanish. And it's free!
It has over 150 separate modules for kids, including hands-on projects, interactive games, animated cartoons, and amazing facts about space and Earth science and technology.
See this month's Space Place article at the bottom of the center panel on this page.
Also check out these two sites for kids: NASA's Climate Kids and NOAA's SciJinks
---
Bob Moler's Ephemeris contains audio mp3s of current Ephemeris programs; calendars of sunrise, sunset,moonrise and moonset for the Grand Traverse area of Michigan, and other locations in northern Michigan; plus a monthly star chart.
Also Bob's Ephemeris Blog with daily transcripts of and illustrations for his daily Ephemeris programs on Interlochen Public Radio.

Northwestern Michigan College's Joseph H. Rogers Observatory
If you'd like to donate
From Article II, B of the Articles of Incorporation of the Grand Traverse Astronomical Society:
The Society shall operate a scientific and educational organization with the goal of increasing interest in, the knowledge and enjoyment of astronomy; cooperate with similar organizations; and cooperate with Northwestern Michigan College to increase the benefit of the college observatory to the community.
As you can see by the statement above the society is inexorably linked to the Joseph H. Rogers observatory. However in the past number of years members have been also taking telescopes out into the community, on sidewalks and street corners, and in the street on Friday Night Live, and to the Sleeping Bear Dunes National Lakeshore. We find that many folks in the area have never been out to the observatory. This way we are going to to the public. And having a huge telescope is really be a huge attraction, not to mention the superb views of the heavens it will provide.
We have purchased a 25 inch Dobsonian telescope with trailer to use and to take around for our outreach program. We have also purchased a solar telescope to view the Sun's prominences, and are looking to obtain a second solar telescope. We feature a solar viewing time at the Sleeping Bear Dunes before the star parties in June, July and August.
We have recently purchased small telescopes to give to libraries for them to lend out. The first two recipients are Traverse Area District Library and Betsie Valley District Library. Enerdyne of Suttons Bay donated the second telescope..
You may contribute to the fund to help us upgrade and add accessories to the society's telescopes by mailing a check to the GTAS, C/O the society treasurer Gary Carlisle, 1473 Birmley Rd, Traverse City, MI 49686. We are a 501(c)(3) non profit organization. Donations are tax deductible.
Thank You!