Members Page
Deep Sky Objects for viewing at Star Parties (New!)
Index
Back issues of the Stellar Sentinel (Last month and older) New!
How to get there from here
Brandt Farview Orchard Directions
Leelanau Outdoor Center Directions
Sleeping Bear Dunes National Lakeshore
Society Instrument Documentation and Manuals
The GTAS has donated telescopes to local libraries.
Telescope Basics.pdf A quick primer about telescope and mount types
Traverse Area District Library on Woodmere, Traverse City, MI and the Betsie Valley District Library at Thompsonville, MI have the TableTop Maksutov telescope.
Library Edition TableTop Maksutov Telescope Instructions.pdf (Updated formatting 7/22/15)
The Kingsley District Library, Kingsley, MI has the StarBlast telescope.
Telescope Presentation Letter.pdf
StarBlast User Instructions (StarBlast.pdf)
All about the StarBlast Telescope.pdf (Presentation)
Celestial wonders to see with the StarBlast telescope.pdf
Links to Society Documents
Mission Statement
Articles of Incorporation
By-Laws
GTAS 2014 Brochure Version 1 (05/12/14)
---
How to get there from here
Brandt Farview Orchard Directions
Mapquest link to 304 S Herman Rd., Suttons Bay, MI 49682
The Location and Route
Head out M22 from Traverse City north to Revold Road about 13 miles north of Tom's West Bay (M72 & M22 intersection) and turn left (west). There's a sign for Revold before you get there. Revold ends at Center Road (County Road 633). Turn right (North). Travel about 2.3 miles to Herman Road where the reduced speed zone and the 25 MPH speed limit sign is. Turn left on Herman Road and travel about 1.4 miles. There is a farmer's windmill on the left before the unmarked asphalt paved drive also on the left. Turn left on the drive marked 304 (Farview Orchards). This is opposite the Crestwood road sign is (on the right). Note for GPS units, it is 304 S Herman Rd, Suttons Bay, MI. Remember
the "S". (Long: 85.67503 W, Lat: 44.97759 N)
Off road to the picnic spot
Follow the asphalt drive turning to the left at the two forks on it. The road will end in a gravel road by the front of a brown house (The Brandt's). Bill Hathaway, who arranged the use of the grounds, will place markers for the rest of the drive, that will take you through a cherry orchard to the picnic and viewing spot. Drive slowly, it's a bumpy ride through the orchard. It's about a mile from Herman Road to the picnic spot.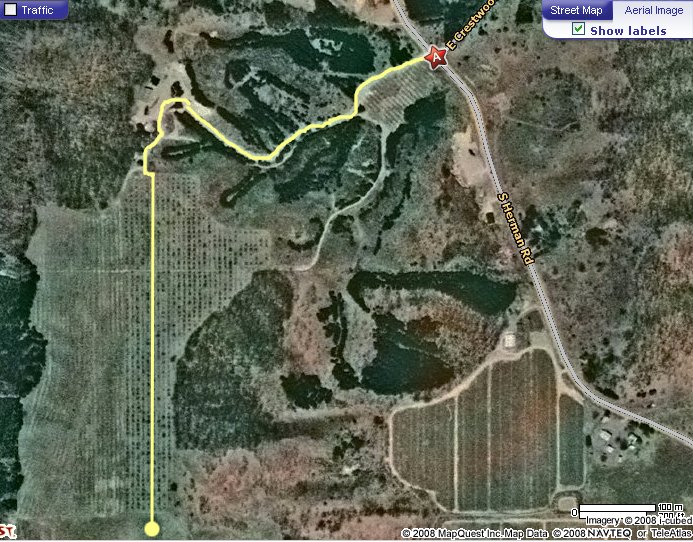 ---
Directions to Alden
Mapquest link to Alden Depot Park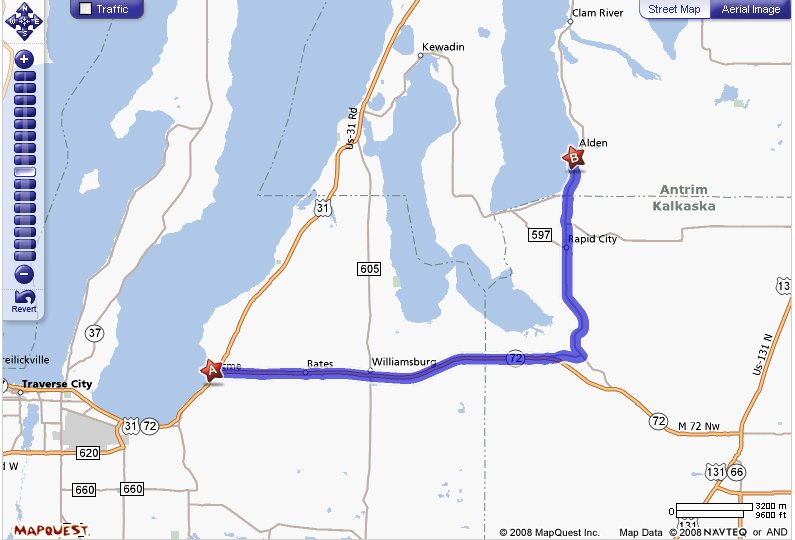 Mapquest page link to driving instructions for above map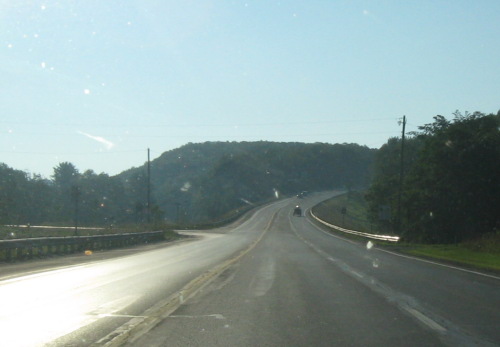 The left turn off M72 onto Hill Road

http://www.locprograms.com/location/directions.html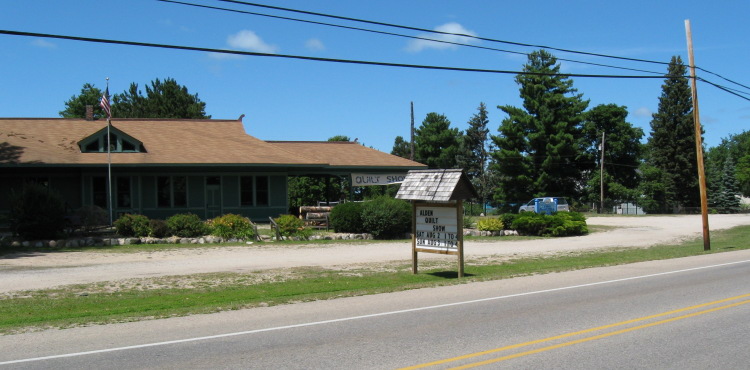 The Alden Depot. The park is behind and to the right.
---
Leelanau Outdoor Center
1653 Port Oneida Road
Maple City, MI 49664


Here's a link to the MapQuest directions
You may not want to take this route in the dark the first time.
Below are the directions provided by the LOC website:
Follow M-72 west, almost to Empire where you will approach County Road 677 (just past the Sleepy Bear Campground). Turn right (north) on County Road 677 and continue on this road for 4-5 miles. At the bottom of the last hill there is a stop sign. Turn right onto M-22 then veer left over the bridge which goes between Big and Little Glen Lakes (The Narrows). Continue on M-22 for another 4-5 miles into Glen Arbor. You will then come to a T-intersection (Anderson's IGA market is on your right). Turn right at this intersection and follow M-22 for almost 3 miles. You will make a left turn down Port Oneida Road. Leelanau Outdoor Center is a mile and half down this road.
---
Sleeping Bear Dunes National Lakeshore
Platte River Point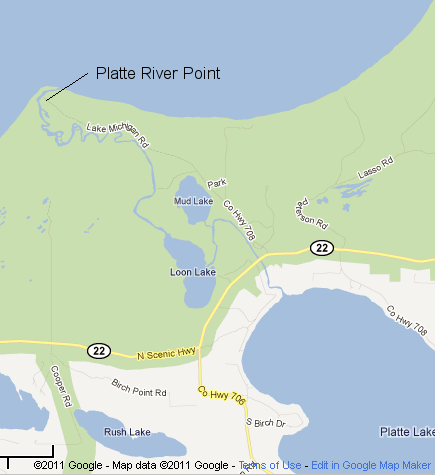 Dune Climb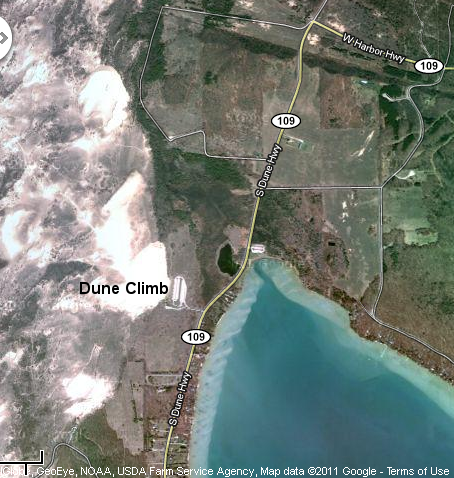 Pierce Stocking Scenic Drive Stop #3
Thoreson Farm
---
25" Obsession Telescope
Obsession Telescope web site - www.obsessiontelescopes.com
Documents (PDF)
Using Your Obsession Telescope (This was scanned, so it's 1 MB in size) These were the instructions that we found after we set up the telescope the first time. We didn't screw it up too bad.

Obsession Set-up and Take-down (The normal setup and takedown instructions were converted via OCR to text from the above publication, and bulleted for step by step instructions and easy understanding by removing referenced to other sized telescopes.
Argo Navis / ServoCAT QUICK Startup with alignment stars visible
ServoCAT Handpad Usage New!

Collimation Instructions - From the web site.

Cleaning the Mirror - From the web site
Lunt Hydrogen Alpha Solar Telescope
Lunt Solar Telescope Manual.pdf
Page updated: 03/28/19