Getting Ready for Summer Outreach
By Bob Moler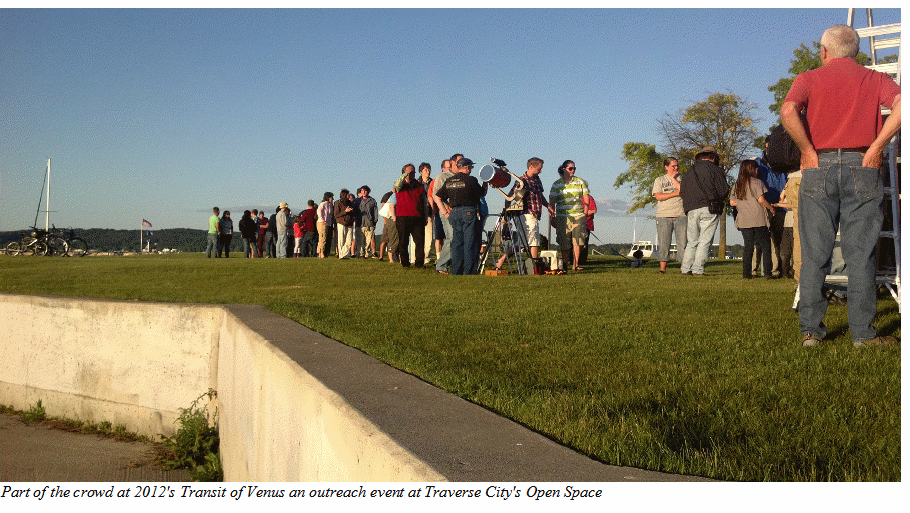 We're creating a summer outreach schedule of festivals around the area. What we do need is more of our members to come out and help.
The GTAS was started to bring the wonders of the science of astronomy to the community. We started at the Joseph H. Rogers Observatory. That's where we were formed. That it was at the observatory's founding was not a coincidence. However over the years we found out that many folks knew of the observatory, maybe passed by it daily, but never attended a viewing session or star party. The board decided to start an outreach. We began with Friday Night Live, the street fair on Front Street on Friday evenings in late July to mid August. Four years ago one of the rangers from the Sleeping Bear Dunes National Lakeshore happened by, which led to two star parties at stop #3 at Pierce Stocking Scenic Drive, the second being the leading event for the Lakeshore's 40th anniversary that year. This year will be our 4th year with scheduled star and sun parties monthly from April to October. As of the time this article is put to bed, we do not know if the sequester of federal funds will affect the schedule that we had set up already.
We have festivals throughout the summer. We tend to be notified about them several months in advance, so most have not yet be scheduled. We also have scout and school groups that we visit. Richard Kuschell, our current President can also shoot model rockets.
Currently we have a growing list of events. A lot of these are daytime events, where we observe the sun and have hands on activities like making moon craters, use moon balls to demonstrate the phases of the moon. That's why the society purchased a hydrogen alpha telescope to view the sun's chromosphere and prominences We also make dry ice comets on occasion. We'll also come up with other activities. But we do need volunteers to work with the kids on them.
Have a fear that you don't know enough? Usually the concepts we are trying to get over are simple. Hang around a bit, and you'll absorb the concepts and you're ready to take over that activity. Got a question that you can't answer? Send them to a more knowledgeable member, or admit that you don't know. Some questions, especially from kids don't have answers.
If you get a creationist, who insists that the universe is 6,000 years old, send them my way. Generally it will come down to that we agree to disagree. I treat these people with respect if they are civil, and they usually are. We are about science and not theology. In all our years of outreach I've only met one.
At night, if you don't have a telescope, learn some constellations of the season and stories. Get a green laser pointer and point them out. Another important job is to hand out our brochures and remind people that we are donating our time, and if they had a good time, donate to our donation jar. We find if someone does this our donations increase.
Come help us out!